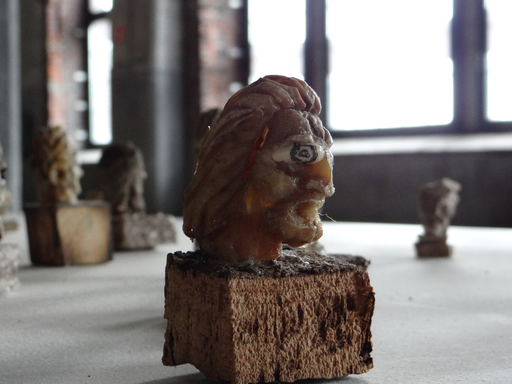 Drager Meurtant (1951), has since young age interest in art. This interest was for a long time in the margin of his work as veterinarian-biomedical researcher (oncology). Some of his creativity did find an outlet in poetry from early years on. At the age of 61 he decided to translate his perception of life in visual art: sculptures (assemblages), collages, graphics and paintings became part of the spectrum. As autodidact and with experience in carpentry, natural materials (wood, stone) in addition to construction material are at the basis of his assemblages. Much of the basic elements are from demolition- / remnant materials ("recycling art"), some are 'objets trouvés'.
A leading principle is the fascination for the processes of development and decay, as these occur in nature, but also in products made by human hands.
When images are created, these often contain the 'state-of-being' and perception of the existence, in the fragments of which experiences are build. The expression of such a perception in different mediums, reflects the languages used by the artist. Not seldom are elements made to 'clash', by the artist, by use of different materials or state of genesis / decay, in order to visualize the tension, that is inherent to the existence.
At walks in city, village, or industry-zone, but also in nature, photography becomes another means to grasp the world we live in. Also in graphical work, painting and collage, this vision is active.
Essay on creating assemblages: http://www.axonjournal.com.au/issue-9/assemblages
Essay with visual art and poetry: https://www.axonjournal.com.au/issue-vol-10-no-2-dec-2020
Other essays with views or reviews on art: www.dragermeurtant.wordpress.com. and on http://kdoutsiderart.tumblr.com/dragermeurtant
Book: Drager Meurtant - Paleidokopus, with over 55 photos (art / street) and associated texts, published June 2018.
Member of the International Society of Assemblage and Collage Artists.
Member of Sculpture Network
Supporter of movement to make culture free from sponsoring by fossil fuel industries, www.oilfundsfree.org.